On Sunday August 13 Bellows Falls Elks Lodge #1619 held their 3rd Annual Cow Plop Contest for their State Major Project, Silver Towers Camp at Rocky and Karen's in South Charlestown. The Vermont Elks being a very close knit community had participants from Lodges throughout the State. Two contests were held and prizes of $300 & $150 were won in both. The first contest winners were Brian Read of Charlestown and Joe Montcalm of St. Albans Lodge. The second contest was won by Renee St. Sauveur and Mike McLean, both of Charlestown.
$550 was raised for Silver Towers Camp from the first contest, along with donations of over $160 from hamburg, hot dogs (cooked by Jerry & Cheryl), corn on the cob, soda and water. Plus, one of the winners generously donated his winnings of $150 to the VT Elks Charities Endowment Trust Fund.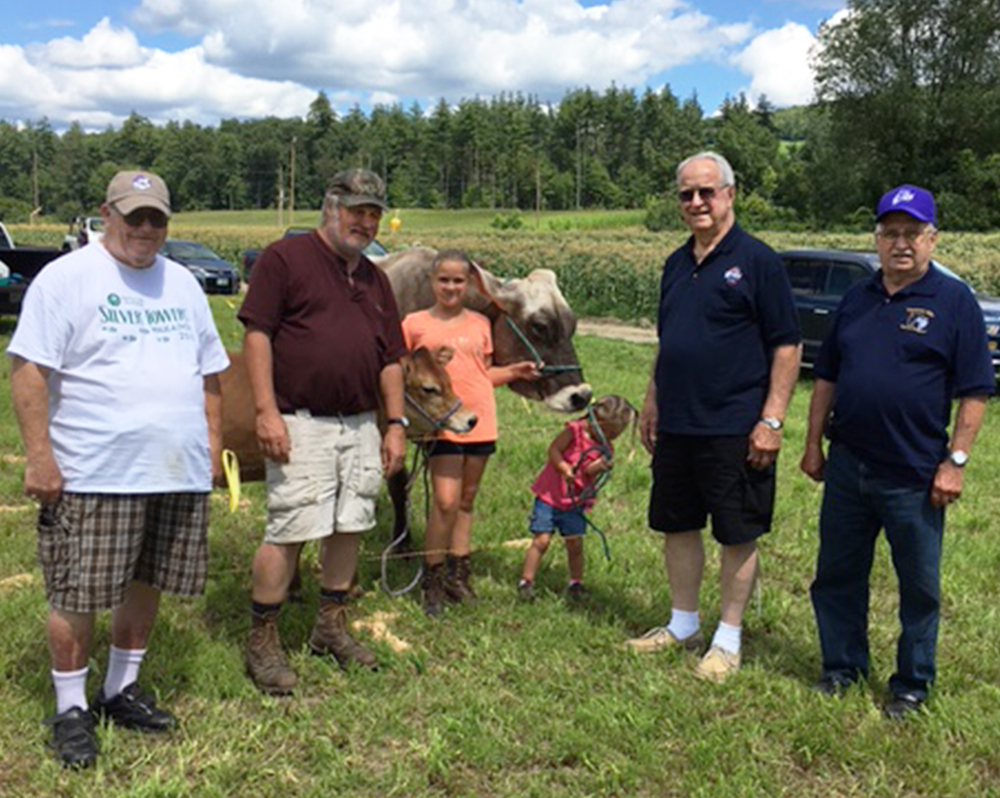 Pictured are: Past State President Ray Buisson (BF Lodge #1619), President Elect Morris "Rocky" Putnam (BF Lodge #1619), 4H'er Abigail & little sister Megan Putnam, District Deputy South Norm Marshall (Windsor Lodge #1665), and Past State President Keith Palmer (St. Albans Lodge #1566), along with the main attraction, Thistle and Apricot. Many many thanks go out to those who donated their time for the cause. Ray, Norm & Keith were good sports to "judge" the contests.
Article Submitted by: KAREN MCCORMICK-PUTNAM